July 6th, 2018 Posted in
Uncategorized
|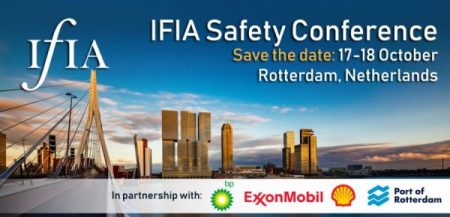 IFIA, The International Federation of Inspection Agencies, will be hosting a multi-stakeholder Safety Conference on the 17-18 of October 2018 in the city of Rotterdam. Together with BP, ExxonMobil, and Shell, the conference will bring together the inspection, petroleum and shipping industries to discuss key safety issues and agree to suitable solutions to address them. The event will open with a keynote speech on the role of leadership in safety followed by sessions which will include thought-provoking presentations given by the petroleum inspection sector on various topical safety issues faced in both on and offshore settings. These will be followed by interactive break-out sessions with the overall aim of providing a forum to share ideas and openly discuss and resolve pertinent safety issues in order to work towards a stronger safety working culture and environment for all.
The conference will be held in the World Port Centre and we are very delighted to announce the confirmed guest speakers are Cedric Parentelli, Director of Europe and North Africa, DuPont and Tony Gower-Jones, Board member, Tripod Foundation.
Please find the programme here
Regarding hotels, the following two have been recommended for your convenience:
The S.S. Rotterdam This hotel takes the shape of a decommissioned naval ship and is roughly 5 minutes by boat-taxi from the meeting venue (or 15 minutes walk) and will also be the venue for the Networking Dinner taking place on the evening of October 17.
Website for booking with special rate: https://ssrotterdam.com/special/ifia-safety-conference/ (Special rate only for a one night reservation from 17-18 October. Should you wish to book for additional nights, kindly use the link to complete your registration and send an email to info@ssrotterdam.nl asking to extend your reservation for additional nights).
The Hotel New York This hotel is located directly across the street from the meeting venue. Please note that this hotel has very a limited amount of rooms remaining. Although there are no reduced rates, 20 rooms were recently unfrozen and are available on a first come first serve basis.
Website for booking:  https://hotelnewyork.nl
Should you require any additional information, kindly email secretariat@ifia-federation.org.
This event has passed. See additional pictures below: