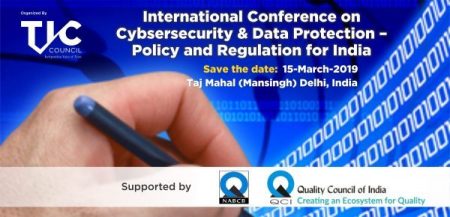 The TIC Council will be hosting the 1st International Level Conference on Cybersecurity & Data Protection Regulatory Compliance for India with support from QCI and NABCB. The conference will be attended by 100+ delegates and 30+ global experts from more than six nations.
Event information:
March 15, 2019 | 09:00am  – 17:00pm  |  Diwan-I-Am, The Taj Mahal Hotel, New Delhi, INDIA
Sessions to be covered:
Cybersecurity for Critical Infrastructure
EU GDPR
Data Privcacy & Protection Bill
The status of IoT Security in 2019
For additional information please send an email to secretariat@ifia-federation.org.